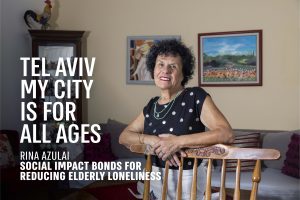 Born in Morocco, I made Aliyah at age 15 and built a home in Tel Aviv-Yafo. I raised 4 wonderful children, 11 grandchildren, and 8 great-grandchildren. Yet today,
at the age of 78, it is the city that keeps me busy.
The Loneliness Pandemic, massively taking hold around the globe, has affected us as well. The program to reduce elderly loneliness, supported by the Tel Aviv Foundation, could not have come at a better time. An array of tech tools, specifically designed for senior citizens, along with volunteers, and social workers, are set to help us reconnect, alleviate loneliness, and increase our well-being and independence – fostering a true sense of belonging.
Combined with programs and centers dedicated to the elderly – there are endless opportunities to connect and celebrate life in its golden years in the city that embraces all ages.
Click here to support The Social Impact Bonds to Reduce Elderly Loneliness through the Tel Aviv Foundation