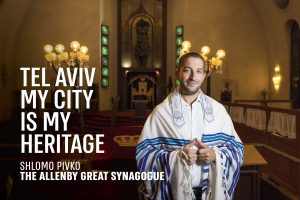 Born and raised in Tel Aviv-Yafo, I used to walk to the Great Synagogue with my father every Shabbat for prayers. Today, as the Synagogue's President, I walk with my children, still in awe of the nonstop vibrancy. Our city is a mosaic of people – religious, secular, left and right-wing, gay, immigrants, asylum seekers – a magical medley of identities, and our synagogue welcomes all.
One of Tel Aviv's most important national assets, the synagogue is a center of culture and spirituality – a sanctuary where daily prayers are held along with performances, concerts, and communal gatherings. The time has come to join the Tel Aviv Foundation initiative and restore this momentous building that has suffered years of neglect, bringing it back to its glory days, celebrating the original architecture, and strengthening the religious and secular communities in the city.
We're honoring our heritage, looking boldly ahead.
Click here to support the  Tel Aviv-Yafo's Allenby Great Synagogue through the Tel Aviv Foundation