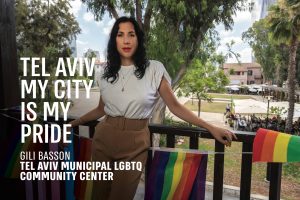 As a trans woman, I have found my home in Tel Aviv-Yafo, and it is through my work as the Community Manager of the Municipal LGBTQ Center that I open
our home to all.
The center, located in Meir Park in the city center, houses various social and cultural community services provided by the city for the local lesbian, gay, bi,
transgender, and queer communities.
The center, supported by the Tel Aviv Foundation, hosts social events, art exhibits, concerts, lectures, workshops, and theatre and dance performances; it houses LGBTQ community organizations for youth and their parents, religious groups, transgenders, seniors, people living with HIV; and support services such
as legal, medical, counseling, a hotline, and much more.
At our center, just as in our city, everyone is welcome regardless of gender, age or sexual orientation.
Click here to support The Municipal LGBTQ Center through the Tel Aviv Foundation.