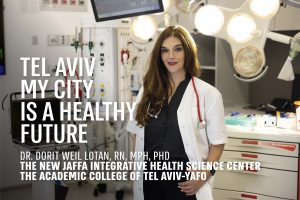 As Dean of the School of Nursing Science at the Academic College of Tel Aviv-Yafo, with vast nursing experience, and a healthcare professional specializing in public health policy, I strongly believe in education as a formative tool shaping the future of our healthcare system.
A key player in Jaffa, strengthening the local community and offering a path of change and empowerment, the School of Nursing Science has become a leader in its field in Israel. The new Jaffa Integrative Health Science Center, a Tel Aviv Foundation project, will build upon that proven academic excellence, open new programs, develop solutions to the contemporary challenges in Israel, and introduce new sectors, all while working in a multi-cultural environment.
Our students are the future of a resilient, cutting-edge healthcare system in Tel Aviv-Yafo and Israel as a whole.
Click here to support the new Jaffa Integrative Health Science Center through the Tel Aviv Foundation