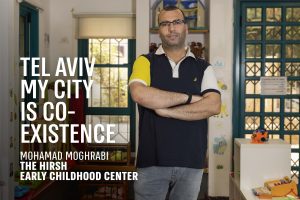 Working in a multilingual environment is both challenging and rewarding. As a speech therapist at The Hirsh Early Childhood Center, established by the Tel Aviv Foundation, located at the heart of Ajami, Jaffa, in which care is provided in Arabic, Hebrew, and English, I can treat children and their families in Arabic – theirs, and my native tongue. A crucial factor in the success of any treatment.
Established to make holistic, preventive, and therapeutic services accessible to the diverse Jaffa community, where resources are limited, the center provides care to children in need with early childhood intervention, reduces developmental and emotional gaps, and ensures continuous care for wellbeing.
Working alongside me are occupational therapists, psychologists, social workers, family counselors, and more – together, we deliver on the promise of Tel Aviv-Yafo – a city that takes care of all.
Click here to support The Hirsh Early Childhood Center through the Tel Aviv Foundation.