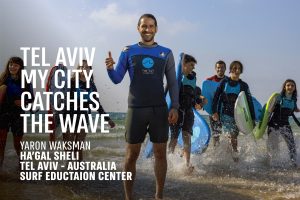 With strong Australian roots, where my father was born and raised, and living in Jaffa near the new HaGal Sheli center, built by the Tel Aviv Foundation, the vast open waters are an inseparable part of who I am.
I founded HaGal Sheli (My Wave) almost ten years ago, providing at-risk youth a real opportunity to ride the wave to a better life, utilizing surfing as an empowering educational and therapeutic tool. Working with kids from all walks of life, we stand by their side, providing a safe space in which to tackle life's greatest challenges.
Surfing the wide open waters, teenagers from all across the city cultivate skills that are applied in everyday life, volunteer in different activities, and become certified surfing instructors and mentors for the younger participants.
Riding the waves, we discover that in Tel Aviv-Yafo, everything is possible, and everyone gets a fair chance to grow and succeed.
Click here to support HaGal Sheli through the Tel Aviv Foundation