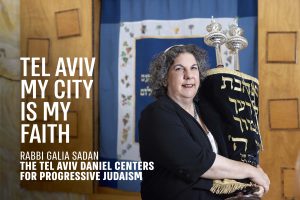 The Daniel Centers for Progressive Judaism create meaningful opportunities to explore and embrace Reform Judaism. As a Rabbi at the centers, I dedicate my work to promoting and renewing the Jewish spirit across the city, and it is through the Mechina that I provide spiritual guidance to our younger generation.
The Mechina, a gap year program supported by the Tel Aviv Foundation for Israeli high school graduates who dedicate a year to Reform Jewish values, is an opportunity to acquire leadership skills, practice Tikkun Olam and explore the many elements and challenges within Israel's society. Located in Jaffa, a microcosm of Israeli society, the trainees realize their leadership skills and values in real-time, preparing them for meaningful service in the IDF and social engagement, based on Jewish values in the years ahead.
Together, we nourish and expand a modern, inclusive, equal, and tolerant Jewish community.
Click here to support the Mechina through the Tel Aviv Foundation